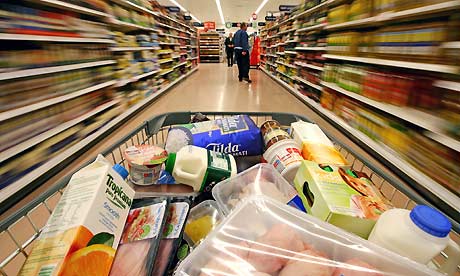 As the UK begins to reopen positive economic signs are beginning to emerge. It's still far to early to call this a recovery, but UK retail planning their reopening has prompted a rally in the FTSE 100 – read more below;
Shares in Associated British Foods rise to top of FTSE 100 as Primark owner says it will reopen all its stores in England on 15 June.
The FTSE 100 has rallied, buoyed by travel stocks and retailers as investors eyed the reopening of shops in the UK and an easing of global lockdowns imposed to contain the spread of the coronavirus pandemic.
The UK blue-chip index rose 62 points, or 1%, to 6,139, with shares in Associated British Foods (ABF) leading the way, up 7.5% at £19.58, as the Primark owner announced plans to reopen all its stores in England on 15 June.
Travel stocks were also in demand. British Airways owner International Consolidated Airlines (IAG) jumped 6.1% to 242.2p and EasyJet (EZJ) rose 4.3% to 709.2p.
'Mid-cap' companies on the FTSE 250 rose 1.1% amid investor hopes for a UK economic rebound from a looming recession driven by the coronavirus lockdown. Companies on the index derive more of their revenues from the UK domestic economy than their blue-chip peers.
'Slowly, the UK economy is reopening,' said Fiona Cincotta, analyst at City Index. 'Travel and tourism stocks, retailers, property, and transport could once again find themselves the centre of the bull's attention.'
Telecoms group Airtel Africa (AAF) rose to the top of the index, up 9.3% at 37.2p, while gambling group Rank (RNK) was up 6.1% at 151.9p.
'Mid cap' shares outside the FTSE 100 were positive with the FTSE 250 up 1.2% to 17,253 and the FTSE Small Cap up 1% at 4,915.
De La Rue (DLAR) was easily the fastest riser on the mid-cap index, doubling with a 41p leap to 82p after the bank note and passport printer said Covid-19 had little impact on its business as it kept its expectations for the full year unchanged. Even after this morning's spike, the shares have more than halved this year.
London-listed closed-end funds were largely not participating in the rally, with all the main movers in retreat.
Private equity investment trusts ICG Enterprise (ICGT) and Apax Global Alpha (APAX) fell over 4.5% to 700p and 136p respectively.
Several real estate investment trusts were weak too, notably BMO Real Estate Investments (BREI) which slipped 4.7% to 57.2p and UK Commercial Property (UKCM) eased 2.75% lower to 60.2p.
Specialist property funds GCP Student Living (DIGS) shed 3.6% to 133.6p and Triple Point Social Housing (SOHO) gave up 3.5% to 93p.
European stock markets were also catching up with a late rebound in US markets on Friday, after president Donald Trump outlined a less severe than feared stance on China in a press conference.
'It was more what Trump didn't say in his speech on China that has boosted the mood,' said Cincotta.
'Whilst Trump removed Hong Kong's special trade status, as expected, he didn't withdraw from the trade deal agreed in January and he didn't apply any sanctions to Chinese officials or persons connected with the regime. Traders are breathing a sigh of relief.'
You can read more at the New Model Adviser link below –
https://citywire.co.uk/new-model-adviser/news/ftse-rallies-as-retailers-plan-to-reopen-after-virus-shutdown/a1362645?ref=new_model_adviser_latest_news_list
Sign up for newsletter updates!
Join our email list to receive updates and information.
Contact Us
For more information on any of our independent financial services, or to discuss your specific requirements, contact out dedicated team today.